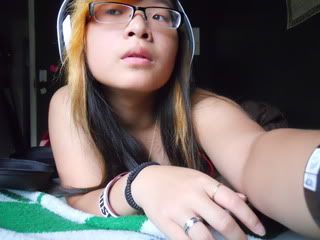 hi. my name is Crystal, I'm probably one of the nicest people you will ever meet. it's hard to catch me without a smile on my face. people say that I'm hard to miss, because you'll never forget my personality.
September 2012, I've begun my enlistment process into the United States Airforce with a goal of achieving a profession in aircraft repair and maintenance. I am currently past step 3: the ASVAB. I got a 57.  MEPs will be scheduled at the end of October. I want to repair jets, and copters.
people call me Waffles. I'm commonly known as one of those geeky tumblr girls though that have obsessions with video games, and animes and stuff.
I love singing, and dubstep is my favorite genre of music.
Just Ask Me.
Holding hands may seem like an innocent gesture, but they show more than a simple interlocking of fingers. Your hands are one of the most essential parts of your body: you build with them, feed with them, hold with them, touch with them, fight with them; they are the tools of the human body. To take a hold of another's hand is to break from living individually. It is to link yourself to another being, to momentarily entwine your life with another's, to promise, for a moment, that you need not face the world alone. More simple, more aesthetically naive than other forms of affection, i.e kissing, hugging, sexing.., the act of holding hands is often trivialized in its true implications. 
(via psych-quotes)